Jonathan Kuminga is a name you are going to want to familiarize yourself with heading into the 2021 NBA Draft.
The G League Ignite's star forward was once the No. 1-ranked prospect on ESPN's Top 100 for the class of 2021 before he elected to reclassify for the class of 2020. Even after his reclassification, Kuminga was still the No. 4-ranked prospect for the class of 2020 with offers from all of the top schools in the country.
Forgoing his NCAA eligibility, Kuminga chose to take the G League route instead and he had a promising showing in his first professional season in the G League bubble.
The 6-foot-8, 220-pound forward averaged 15.8 points, 7.2 rebounds, 2.7 assists, 1.0 steals and 0.8 blocks per game, getting the job done on both ends of the floor.
MORE: Ignite star Jalen Green's scouting report
What will the 19-year-old bring to the NBA franchise that selects him?
Strengths
Kuminga is the most versatile defender in this draft class.
At 6-foot-8, 220 pounds with a 7-foot wingspan, Kuminga has an NBA-ready body that perfectly fits the mould of today's playstyle with the tools to truly defend 1-through-4, potentially even 5s down the line.
The combination of his size, strength, quickness and athleticism gives him the ability to completely take guards out of the game while also being able to bang bodies in the paint and play physical against bigs.
Look how quick his footwork is defending Golden State Warriors guard Nico Mannion.
To complete that package, he's an above-average rebounder for his size with a nose for the ball, even up against much bigger players.
Offensively, there's still plenty of room for development, but we already began to see Kuminga take encouraging steps in the bubble. He's a capable finisher when attacking the basket and his improving handle shows he could eventually become a scoring threat at the next level.
He's very much still raw as a playmaker, especially when creating his own jumpshot off the bounce. But as he becomes more comfortable as a ball-handler and more confident in his jumper, the rest of his offensive game should follow suit.
Posting nearly 16 points per game with a skillset that still needs polishing, Kuminga is just scratching the surface of his potential as a scorer.
Weaknesses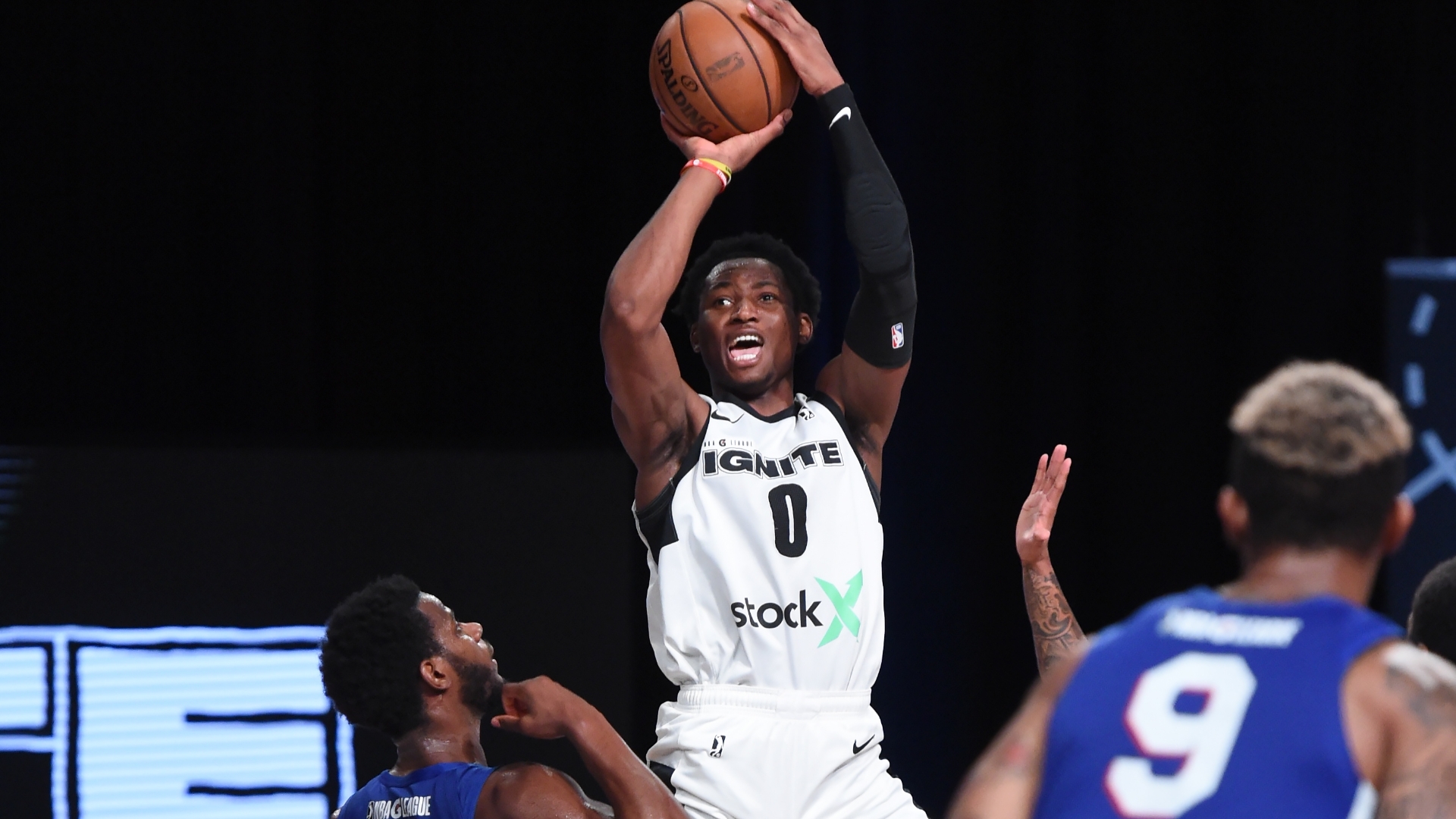 Although defence is his biggest strength, his effort and energy will determine just how elite he becomes on that end of the floor. He has all the physical tools to be a lockdown defender, but he isn't always locked in.
Offensively, Kuminga has a tendency to get tunnel vision, putting his head down and forcing a shot that is out of the flow of the offence. He can make simple passes, but he is much more likely to look for his own shot than setting up an open teammate.
He needs to develop a more consistent jumpshot, shooting 38.7 percent from the field and 24.6 percent from 3 in the bubble. There are plenty of areas of Kuminga's game that need refining, and the team that selects him will need to be patient, but the potential is certainly there.
Projected NBA Draft Position: 1-5
Projected NBA Role: Premier defender, secondary scorer
Shades of: Jaylen Brown, OG Anunoby, Al-Farouq Aminu
The views expressed here do not represent those of the NBA or its clubs.