Final: Chicago Bulls 105, Toronto Raptors 91
Oct 14, 12:15 am UTC
Toronto outscores Chicago 30-13 in the final frame to make things a bit closer, but the Bulls earn a 14-point victory for their first win of the 2019 preseason.
The Raptors fall to 1-2 in the preseason.
Chicago's Zach LaVine led all scorers with 26 points (on 9-for-14 shooting) in under 25 minutes - he was one of five Bulls to score in double figures: rookie guard Coby White scored 18 points off of the bench, Lauri Markkanen posted a double-double with 15 points and 13 rebounds, Tomas Satoransky added 12 points and Otto Porter Jr. chipped in with 11 points.
The Bulls finished the night shooting 18-for-49 (36.7%) from deep while the Raptors shot just 9-for-29 (31.0%)
Toronto was led by 15 points from OG Anunoby, who also dished out 4 assists; Anunoby's playmaking is an encouraging sign as he has never dished out 3 or more assists in a regular season game. Matt Thomas (12 points) and Chris Boucher (11 points) were the only two other Raptors to finish in double figures on the night.
There was some encouraging play in the final frame as Stanley Johnson and Rondae Hollis-Jefferson were each a plus-17 in the 12 minutes that they played. Undrafted rookie Sagaba Konate showed energy on both sides of the floor and late draft pick Dewan Hernandez finished with an impressive 7 points and 11 rebounds in under 20 minutes.
The Raptors are back in action on Friday, Oct. 18 as they close the preseason with a trip to the Barclays Center to face Kyrie Irving and the new-look Brooklyn Nets.
Midway through the fourth quarter
Oct 14, 12:01 am UTC
Just under six minutes of basketball remain and the Bulls have a 28-point lead.
Zach LaVine appears to be done for the night but has a game-high 26 points for Chicago. For Toronto, late second-round pick Dewan Hernandez has 5 points and a team-high 10 rebounds.
End of Third Quarter: Chicago Bulls 92, Toronto Raptors 61
Oct 13, 11:45 pm UTC
After outscoring the Raptors 39-23 in the third, the Bulls take a 31-point lead into the final frame.
For Chicago, Zach LaVine leads all scorers with 26 points (on 9-for-14 shooting) while rookie guard Coby White has scored 16 points off the bench.
OH MY, @ZachLaVine! Flight #8 ready for takeoff ✈️@nbcschicago | #RunWithUs pic.twitter.com/tmhOoB0QAH

- Chicago Bulls (@chicagobulls) October 13, 2019
Lauri Markkanen has posted an impressive 15-point, 13-rebound double-double in 21 minutes of action.
OG Anunoby leads the Raptors with 15 points and 4 assists in just under 27 minutes of play. The third-year forward looks increasingly comfortable and could be primed for a bigger role this upcoming season.
Matt Thomas (12 points) and Chris Boucher (11 points) are the other two double-figure scorers for the Raptors, who are shooting an icy 37.7% from the field and 27.3% from beyond the arc.
Halftime Box
Oct 13, 11:30 pm UTC
Halftime stats: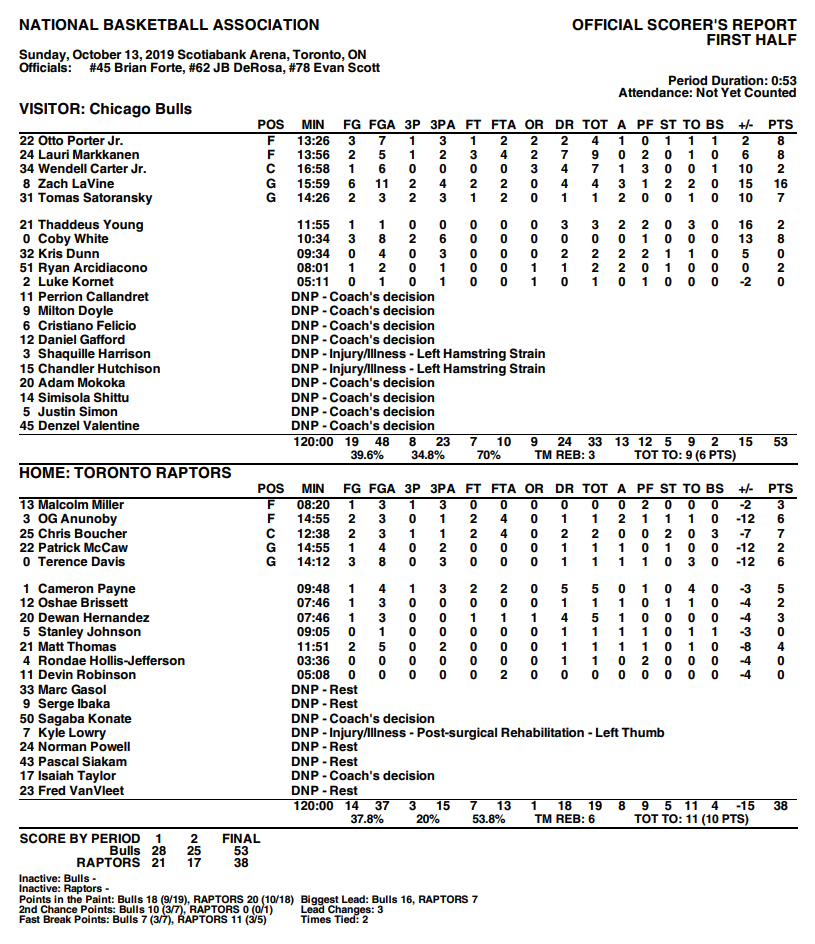 Halftime: Chicago Bulls 53, Toronto Raptors 38
Oct 13, 11:02 pm UTC
We're one half in and the Bulls have built a 15-point lead over the Raptors.
We've reached halftime. pic.twitter.com/x3FM2Expee

- Toronto Raptors (@Raptors) October 13, 2019
In what could be a product of the fatigue from travelling back from the Japan Games Toronto has had a difficult time finding its rhythm on the offensive end.
The Raptors have shot 14-for-37 (37.8%) from the field, 3-for-15 (20.0%) from 3-point range and 7-for-13 (53.8%) from the free throw line.
Chicago is coming off of a preseason loss in Indiana on Friday and hasn't shot much better from the field. The Bulls are 19-for-48 (39.6%) from the field but are 8-for-23 (34.8%) from deep.
Zach Lavine leads all scorers with 16 points to go along with 4 rebounds, 3 assists and 2 steals.
Zach LaVine gets out to 16 1st half PTS for the @chicagobulls in Toronto! #NBAPreseason pic.twitter.com/i6A30AsNda

- NBA (@NBA) October 13, 2019
Midway through the second quarter
Oct 13, 10:48 pm UTC
Just under six minutes remain in the first half and the Bulls lead 37-32.
Zach LaVine's 12 points are still a game-high but Lauri Markkanen is now up to six points and six rebounds on the night.
For Toronto, Matt Thomas has come in to score four quick points off of the bench while Cameron Payne has grabbed five rebounds to go along with his three points.
End of First Quarter: Chicago Bulls 28, Toronto Raptors 21
Oct 13, 10:33 pm UTC
One quarter is in the books and the Bulls have built a seven-point lead behind a game-high 10 points from Zach LaVine. Third-year forward Lauri Markkanen and rookie Coby White have scored five points apiece for Chicago.
#8 with a quick 10pts 🔥 pic.twitter.com/THGZaGmsW2

- Chicago Bulls (@chicagobulls) October 13, 2019
For Toronto, Chris Boucher leads the way with six point while OG Anunoby has scored five points and dished out two assists.
OG bully ball pic.twitter.com/PTSDmgqoIC

- Toronto Raptors (@Raptors) October 13, 2019
It's been a bit of a sloppy game early on as the teams have combined to commit 15 turnovers, with the Raptors giving the ball away seven times.
First break in the action
Oct 13, 10:19 pm UTC
Approaching the midway point in the first quarter, we've reached our first break in the action.
Timeout Raptors, who trail 13-12 with 6:20 remaining in the frame.
For Toronto, Chris Boucher leads the way with five points while Lauri Markkanen is leading the Bulls with five points, three rebounds and an assist.
Raptors third year forward OG Anunoby has looked comfortable early on and has a two early assists.
Starting Lineups
Oct 13, 9:46 pm UTC
Arrivals
Oct 13, 9:23 pm UTC
Raptors inactives
Oct 13, 8:59 pm UTC
Some of the Raptors newer acquisitions will take centre stage as multiple reports indicate the team will not play Kyle Lowry, Serge Ibaka, Pascal Siakam, Marc Gasol, Norman Powell or Fred VanVleet.
Kyle Lowry won't play. Neither will Ibaka, Siakam, Gasol, Powell, or VanVleet.

With Japan jet lag, it's fully an audition night.

- Blake Murphy (@BlakeMurphyODC) October 13, 2019