Final: USA 102, Australia 86
Aug 22, 11:46 am UTC
Team USA outscores Australia 58-43 in the second half to earn a 16-point win in front of over 50,000 fans in Melbourne.
🇺🇸 #USABMNT FINAL SCORE 🇺🇸

Kemba Walker puts up 23 PTS as @usabasketball beats @BasketballAus 102-86 in Melbourne!

Myles Turner: 15 PTS, 14 REB
Donovan Mitchell: 13 PTS, 3 AST
Patty Mills: 19 PTS#USAGotGame #FIBAWC pic.twitter.com/WEVqoUD9pr

- NBA (@NBA) August 22, 2019
After a slow start, Kemba Walker scored 21 second-half points to finish with a game-high 23 points. Indiana Pacers centre Myles Turner finished with a monster 15-point, 14-rebound double-double in under 20 minutes of action.
Australia was led by 19 points from both Chris Goulding (on 6-12 shooting) and Patty Mills (on 6-16 shooting) but could not overcome the United States' second-half attack.
The two teams will meet again in less than 48 hours.
USA reaches the century mark
Aug 22, 11:40 am UTC
Khris Middleton knocks down a 3-pointer to make it 100-84 with 1:59 remaining in the game, he now has five points in the game.
Australia calls what is likely the final timeout of the night.
A big second-half from Team USA is proving to be the difference as it has led by double digits for the better part of the last two periods.
End of Third Quarter: USA 76, Australia 61
Aug 22, 11:18 am UTC
The United States outscores Australia 32-18 in the third to take a 15-point lead into the final frame.
Team USA got hot in the frame, as it shot 13-for-18 (72.2%) from the field while ramping up the defence to force seven Boomers turnovers in the quarter. Kemba Walker now leads all Americans with 14 points while Myles Turner is up to a monstrous game-high 13 rebounds through three quarters.
Australia is led by Patty Mills' game-high 17 points as well as 16 points from Chris Goulding.
Andrew Bogut droppin' dimes to Patty Mills for @BasketballAus! #FIBAWC

End of Q3 in Melbourne:
🇺🇸 76
🇦🇺 61

📺: @NBATV
💻📱: https://t.co/HbtDcrFgfZ pic.twitter.com/HyNBodePhC

- NBA (@NBA) August 22, 2019
The Boomers will have to strike early in the fourth if they look to claw back into the game.
Team USA builds its biggest lead
Aug 22, 11:12 am UTC
Jaylen Brown sticks a midrange pull-up to put Team USA up 72-58 with 2:10 remaining in the third quarter.
Timeout Australia as the United States' 14-point lead is its biggest of the game.
After leading by just a point at the half, Team USA has outscored Australia 28-15 in the quarter.
Another USA surge
Aug 22, 11:00 am UTC
A layup from Aron Baynes put Australia up by a point less than a minute into the second half.
Again, the United States responded.
A 3-pointer from Harrison Barnes capped off a 10-0 run from Team USA as it has gotten out to a 54-45 lead with 6:48 remaining in the third.
Timeout Boomers.
Halftime Stats
Aug 22, 10:41 am UTC
Some halftime stats to help tell the story: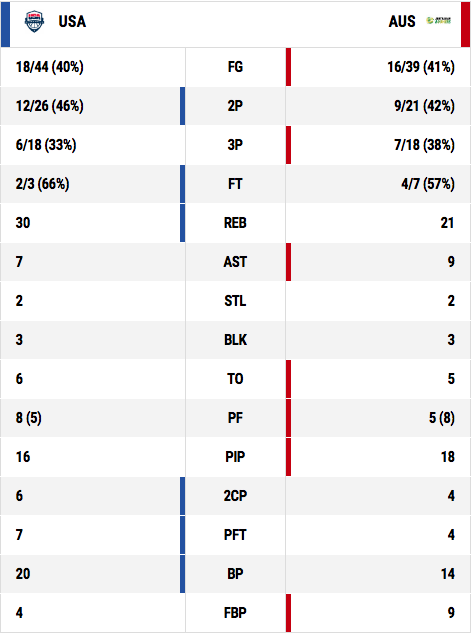 Halftime: USA 44, Australia 43
Aug 22, 10:35 am UTC
After trailing by as many as 11 points, the Australian Boomers close the half on a 12-3 run to cut the deficit to one point.
Patty Mills cuts middle and flips it in for the 3-point play!

📺: @NBATV
💻📱: https://t.co/HbtDcrFgfZ pic.twitter.com/yCO0ZXCURw

- NBA (@NBA) August 22, 2019
We've got a good one going in Melbourne as the #USABMNT leads Australia 44-43 at the break.

Catch the second half on NBA TV! pic.twitter.com/hTtsRDf9Uv

- NBA TV (@NBATV) August 22, 2019
Australia's Patty Mills has a game-high 13 points (on 4-11 shooting) while Chris Goulding has added 10 points (on 4-8 shooting).
Kyle Kuzma, who was scoreless in the second quarter, still leads the way for Team USA with nine points. Both Kemba Walker and Jayson Tatum have added seven points apiece for the United States.
Team USA surges ahead
Aug 22, 10:20 am UTC
An Andrew Bogut dunk with 9:02 remaining in the half gave Australia a three-point lead.
Team USA responded with a 17-3 run over the next four minutes to build an 11-point lead of its own. Timeout Australia as Team USA leads 39-28 midway through the second quarter.
Kyle Kuzma still has a game-high nine points while Kemba Walker is up to seven points on the night and his Celtics teammate Jayson Tatum has knocked down two 3-pointers to bring his total for the game to six points.
Matthew Dellavedova is up to eight points to lead the Boomers.
End of First Quarter: USA 22, Australia 20
Aug 22, 10:09 am UTC
Team USA takes a two-point lead into the second frame as it leads 22-20 after one quarter.
Kyle Kuzma leads the way for the USA with a game-high nine points on 3-for-4 shooting from beyond the arc. His one miss? A heave from beyond half court as the quarter came to a close. Kuz could be in for a big game.
Kuz is HOT. 🔥

He's 3/3 from behind the arc for the #USABMNT in Melbourne! @FIBAWC pic.twitter.com/tS2rXPzgvz

- NBA TV (@NBATV) August 22, 2019
Joe Harris has five points while Donovan Mitchell finished the quarter with four.
Australia is led by five points from Matthew Dellavedova while both Chris Goulding and Patty Mills have added four points in the first frame.
First break in the action
Aug 22, 10:02 am UTC
We've reached the first break in the action as there's a timeout on the floor.
Team USA has gotten out to a 12-7 lead over Australia behind five points from Joe Harris. Just over four minutes remain in the first quarter.
Australia has struggled to get going offensively so far as it is currently 3-for-11 from the field.
Donovan Mitchell gets things going
Aug 22, 10:00 am UTC
Starting Lineups
Aug 22, 9:40 am UTC
The United States will go with a starting unit of Kemba Walker, Donovan Mitchell, Joe Harris, Jaylen Brown and Myles Turner.
Australia is starting Patty Mills, Matthew Dellavedova, Joe Ingles, Jock Landale and Aron Baynes.
Pregame
Aug 22, 9:32 am UTC